The Home Fires series features pre-recorded full-length performances by Prado Monroe, G.R. Gritt, Angel Baribeau, Candace Curr with Withe, Leah Shenandoah, Melody McKiver, and RIIT.
These seven pre-recorded full-length concerts will be made available to the public to stream for free on NWIA's YouTube Channel on June 1, 2022.
G.R. Gritt

Juno Award-winning G.R. Gritt pulls effortlessly from the past to create soulful futurisms. With their new sound that elegantly weaves the melodies using vocals, guitar, and electronic elements. they create both intimate and anthemic music that would fit in a folk club, a dance club, and anywhere in between. G.R. Gritt is a Two-Spirit, Transgender, Francophone, Anishinaabe and Métis artist.

Their music serves as one of these beacons of connection for all who come near it. Welcoming yet truthful, they reclaim space through songs that show that intersectional identity is expansive and not to be divided into parts. By exploring the emotional and cultural core of their heritage as a non-binary, queer, Indigenous artist they create new space and encourage others to do the same.
They are a Northern Ontario Music and Film Award (NOMFA) winning artist for Outstanding Album by an Indigenous Artist (for Quantum Tangle's album "Shelter as we Go…"), and a nominee for Outstanding Engineer, and Outstanding Album. In 2021, they were nominated for 2 SSIMA Awards – Metis artist of the Year and Social Voice and they won the FMO Songs from the Heart – Political category Award.

G.R. Gritt released their full-length album, Ancestors, on April 16, 2021, on Coax Records, and their song "Ancestors ft. Kimmortal" made it onto Sirius XM Indigiverse's Top 20 countdown for 2021.
Leah Shenandoah
Leah Shenandoah M.F.A, B.S., is a Wolf Clan Member of the Onyo'ta:aká: – Oneida Nation of the Haudenosaunee Confederacy. She is an indigenous scholar, artist, activist, and musician currently enrolled as an Apparel Design Ph.D. Candidate at Cornell University. Shenandoah combines indigenous methodologies, material culture, and activism to create a space of protection, comfort, and healing through her work.

Shenandoah received a Master's of Fine Art from Rochester Institute of Technology in Metals and Jewelry, Magna Cum Laude. Her M.F.A thesis "O'whahsa' – Protection, Comfort and Healing" was a multimedia experience based on the Haudenosaunee legend of Skywoman. It consisted of: five textile, paint, and steel sculptures, five sets of jewelry, five outfits, and a 45-minute DJ set with 12 original songs written and performed by Shenandoah at the Hungerford Gallery in Rochester, NY (YouTube link below). Shenandoah also received a Bachelor of Science in Textiles, Cum Laude from Syracuse University.
Her original compositions have received national and regional recognition. Shenandoah's debut album, "Spectra" with producer JJ Boogie from Arrested Development, received a Native American Music Award for "Best Debut Album" and "Best Alternative Album" from the Syracuse Area Music Awards. Shenandoah's art and jewelry have won awards from: Schemitzun Pow Wow, Eiteljorg Indian Market, & Ridgefield Fine Art Market. Her work has also been exhibited in national museums and exhibitions such as the "Changing Hands Exhibit" by the Museum of Art and Design, The McMichael Canadian Art Collection, Syracuse University Art Museum, Iroquois Museum, Longyear Museum, Fenimore Art Museum, National Museum of the American Indian, Bausch and Lomb Gallery, Institute of American Indian Art Museum of Contemporary Native Arts, Memorial Art Gallery, Lemoyne Art Gallery, Everson Museum of Art, Bevier Gallery, and the Alan Houzer Art Park. Shenandoah's jewelry was showcased at the "Go Native Arts" fashion show with indigenous fashion designers Patricia Michaels and Dorothy Grant.
Prado Monroe

Born in Vancouver, Canada on the unceded territory of the Musqueam, Squamish, and Tsleil-Waututh First Nations peoples. Of Metis descent, her mom hails from the North End of Winnipeg – Point Douglas. Meanwhile, her father immigrated from Buenaventura, Colombia to Vancouver in the early 90s. Inspired by everything from Bjork, Whitney Houston, Nelly Furtado, Britney Spears, Crystal Waters – to the melodic trap sonics of Chief Keef, Azealia Banks, and Kanye West.
Prado Monroe was gifted her first guitar and quickly started self-producing and releasing music on Soundcloud under the moniker of "Alienkanye" at a prolific pace. The singer-songwriter, multi-instrumentalist and producer began leading pen to various artists; she was the contagious melodies behind various NY-based male internet rappers – further unearthing her love and disposition to wordplay and pop music, PM learned to lead without fear using her unique sound and no-bullshit delivery.
Candace Curr and Withe
Cedar withes are used by Nuu-chah-nulth and Haida nations to make rope; the more withes, the stronger the rope. A powerful performance with many musicians working together to create such strength and the more withes the stronger we are.
Candace Curr is a storyteller, artist, and musician from Ditidaht First Nation on Vancouver Island. With her voice and ukulele accompanied by Rob Thompson from Haida Nation, Clayton Charleybo from Tsilhqot'in Nation, Trevor Ainsworth, and Emily Best. Sentimental listening songs that make you reflect and feel, as Candace Curr & Withe share songs that explore their lives and experiences.
RIIT

From the land that never melts comes a sound that radiates life, youth, and promise. Riit, from majestic Panniqtuq, Nunavut, is a new artist making space for herself in the electropop world with Inuktitut lyrics and deep rhythmic vocals layered over gemological synth cuts and sticky, staticky electronic textures. Riot's music emerges from very distinct circumstances of place, language, and experience.
Throughout her debut full-length album, produced by Graham Walsh (Holy Fuck) and recorded in Iqaluit, Nunavut, and Toronto, Riot sings about the clarity of forgiveness, the imprint of the past on the present, and personal disconnection. In Inuktitut, Riit's songs explore family, life, and love. Riit also nods to Nunavut's rich yet underapprecaited legacy of songwriters, with covers of Inuititut classics included on the record.
The monoamine-fueled flush of "qaumajuapik," the first song shared from her forthcoming debut full-length album, expresses how intense attraction messes with your sense of time, where a single blink contains a universe. Heart races, clock stops. Produced by Graham Walsh (Holy Fuck), the song sweeps in on a buzzy gust before the Tangerine Dream-esque modulations kick in. Teardrop bleeps fall over Riit's clear voice like a sunshower (the song title means 'you are shining').
On the strength of a 3-song EP released in 2017 by Aakuluk Music, Nunavut's first record label, Riit was nominated for Best Radio Single (Indigenous Music Awards) and Indigenous Artist of the Year (Western Canadian Music Awards). The host of a groundbreaking Inuttitut-language children's show, Anaana's Tent, and soon-to-be recipient of an Emerging Talent Award of Excellence for her broadcast work, Riit is one of the faces of a Nunavut youth movement, a group of remarkable, driven and increasingly high-profile individuals who are creating mainstream waves through art. For an artist who has performed only a handful of shows, a performance in London for The Duke and Duchess of Sussex (Harry & Meghan) and a sold out show in Paris are highlights of a young career.
Now signed to Six Shooter Records, Riit will release her debut full-length album in 2019.
Melody McKiver
Melody McKiver's (they/them) musical work integrates electronics with Western classical music to shape a new genre of Anishinaabe compositions. They are the current recipient of the Canada Council's Robert Flaming Prize awarded annually to an exceptionally talented young Canadian composer, and a recurring invited participant in the Banff Centre for the Arts' Indigenous Classical Music gatherings. A frequent performer across Turtle Island, Melody has performed at the National Arts Centre, Luminato Festival, Vancouver's Western Front, and the Toronto International Film Festival. They have shared stages with Polaris Prize winners Lido Pimienta, Tanya Tagaq, and Jeremy Dutcher, and performed with acclaimed filmmaker and musician Alanis Obomsawin. As a composer, Melody was commissioned by Soundstreams and Jumblies Theatre to compose Odaabaanag, a string quartet responding to Steve Reich's Different Trains, drawing on interviews conducted with Anishinaabe elders. Melody has scored several films and was invited to the Berlinale Talents Sound Studio as a music and composition mentor for the 2020 Berlin International Film Festival. Additional commissions have included Cluster Festival, Marina Thibeault, Duo AIRS, Carnegie Mellon University, TORQ Percussion, and the Elora Singers. A proud member of Obishikokaang Lac Seul First Nation, Melody is currently an Assistant Professor of Music Composition at the Brandon University School of Music and a member of the Mizi'iwe Aana Kwat (LGBTQ2S+ Council) within the Anishinaabe Nation of Treaty #3. Upcoming projects include a setting of Métis author Katherena Vermette's poem river woman for SATB choir and percussion quartet and a full-length album in late 2022. Melody holds an MA in Ethnomusicology from Memorial University and a BFA in Music and Indigenous Studies from York University.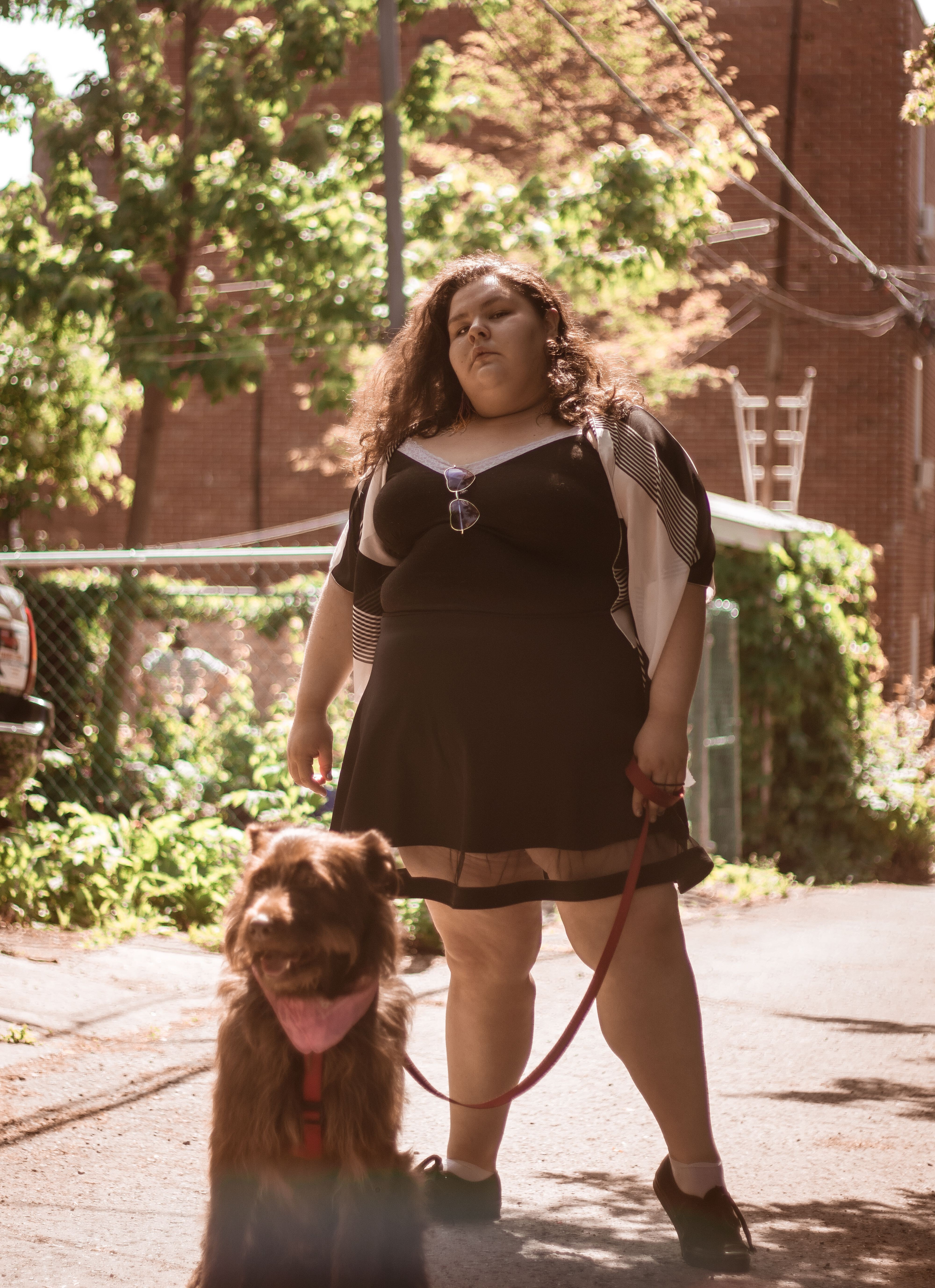 Angel Baribeau

With their breathtaking vocals paired and stunningly vulnerable lyrics that cascade over listeners' emotional terrains, singer-songwriter Angel Baribeau is a notable force. This Montreal based, queer, non-binary, Indigenous artist originally from the Cree community of Mistissini, Quebec, first started through the formation of their early indie folk outfit, Simple Human Tribe. Their solo work gained momentum in 2014, when they were selected for feature on the #1 iTunes chart-topping N'we Jinan compilation album, Eeyou Istchee Volume 1.
Angel's six-track EP's debut single Love Is Up The River quickly garnered more than 20,000+ streams on Spotify and hit Top 10 on the NCI FM Indigenous Music Countdown. Their next single "Wish We Were Older" followed its path blazing its way to #1 on the Indigenous Music Countdown and was featured on CBC North & APTN National News. The official music video for the single won Best Music Video at the Toronto Indie Indie Shorts Film Festival 2021. Siibii's gifts have attracted multiple recognitions including the Young Canadian Songwriters Award (2021) presented by SOCAN Foundation and the Canadian Walk of Fame, RBC Emerging Artist Program award (2021). Currently, Angel is casting their self-titled sophomore album, "Siibii", set to be released in 2022, which will be an introspective compilation of works as they step into their reclaimed identity. Angel is a powerful changemaker, who unwaveringly upholds the responsibility they feel to pursue their talent while also pushing for more representation within the industry.

Native Women in the Arts (NWIA) is one of the leading arts organizations in Canada for Indigenous women and other gender marginalized Indigenous artists working at the intersection of customary and contemporary practices. NWIA serves as a site of artistic exchange, encouraging dialogue between artists and audiences about social, cultural, and political issues and their relationship to artistic expression.